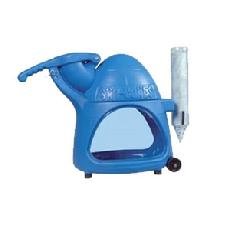 The Cooler Sno Kone Machine
Serve up a frozen treat!
Description: This is one of the most unique sno-cone machines on the market! The Cooler sno-cone machine from KINDAS is a great option for any sno-cone party. You wanted a unique, smaller, more portable sno-cone machine and we've got it! The Cooler has wheels and is made from rugged roto-cast polyethylene so its lightweight and less expensive. It has the same heavy-duty motor and hard-wearing components as KINDAS' other metal models, but the design is a real attention-getter. Features high-imapct polycarbonate side panels making it safe and easy to clean with a blue tint to shade the ice and prevent melt down.
Requirements: You will need a table or counter to set the Sno Kones machine on while in use.

You will also need to purchase:

Available from us:
- Sno Kones Syrup
- Cones
- Table (Rent Only)
- Cooler (Rent Only)
- Extension Cord (Rent Only)

Not Available from us:
- Bag of Ice