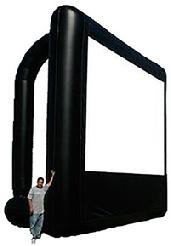 24ft x 20ft Movie Theater
Actual Size: 24ft x 20ft
Outlets: 1
Attendants: 1




ForTheduraionof the movie. Must be setup 1 hour before dark

Description: Entertain up to 500 individuals spread out on blankets with this state-of-the-art 25' wide outdoor movie system. Now you can replicate the complete cineplex experience at your community park, film or music festival, resort, or military base thanks to our Kindas Outdoor Movie Systems. With unmatched quality, durability and versatility, the System is perfect for accommodating truly large gatherings that need equally impressive audio and visuals to complement the event.
Features:
Movie Screen
Sound System
Projector
Speaker

Swank Motion Pictures, Inc.
What is a "Public Performance"?
How many times have you seen the FBI warning at the beggining of a DVD Movie? Next time you pop a DVD into the Player, read it closely. It states that the movie is for" Home Use only". Home Use means just that: viewing of a movie at home by family or a close circle of friends.
What The Law Says
Under the Copyright Revision Act of 1976 all non-private exhibitors of registered copyrighted videos or DVDs must obtain a Public Performance License.
"Willful" infringement for commercial or financial gain is a federal crime carrying a maximum sentence of up to five years in jail andor a $250,000 fine.
If I Don't Charge Admission, Do I Still Need A License?
Yes. Copyright laws apply wheather or not admission is charged
I Own The Movie. Do I Still Need A License To Show It Outside Of My Home?
Yes. Neither the rental, purchase or lending of a video or DVD carries with it the right to exhibit movies outside the home.
What If We Are A Non Profit Organization, Church Or Goverment Agency, Do We Still A License?
Yes. Copyright laws apply to all viewings of movies that take place outside of the privacy of a home, regardless of the organization holding the event.
To Obtain A Public License
Obtaining a public performance license is relatively easy. Kindas can help you with this process, but you do not pay us for the license.
The licensing companies determine fees by such factors as the number of times a particular movie is going to be shown, how large the audience will be and so forth. Most licensing fewes are based on a particular performance or set of performances for specific films, The major firms that handle these licenses include:


Note: Criterion Pictures and Swank Motion Pictures are not competitors, but represent different studios.
Motion Picture Licensing Corporation (MPLC)
Yearly site License for organizations with members (Camps, YMCA, HOAs)